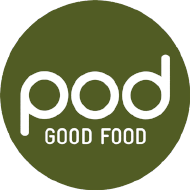 Enter postcode
See if we deliver where you are
We don't deliver there
is outside this restaurant's deliver area, sorry.
What's new
Chicken Dhansak Hot Pot

Chicken and Lentils are combined to perfection in a Dhansak sauce that feels like a warm, affectionate embrace.

Pod Salads

If Spring was a dish, it would be a Pod Salad. Fresh, vivacious with a bit of a kick. Just what you need to forget the slumber of the winter months.
Most popular dishes
Triple Cheese Gluten Free Macaroni

It's like Mac 'n' Cheese, just three times better.

Thai Green Curry

This is one of our favourite plates: a classic recipe that never dissapoints. The Thai Green Curry is simply the gift that just keeps on giving.

Superb scrambled eggs

You want normal scrambled eggs? Look elswhere, we only do the superb kind here.
Our stores (3)